Inspection Readiness Training Series

BUNDLE- Implementing an Inspection Readiness Program from Start Up to Closeout - for Clinical Sites and Sponsors
This three (3) part series will discuss Inspection Readiness from trial initiation to closure and will focus on the expectations and requirements of regulatory authorities, such as FDA.



This bundle includes:
Course 1: Setting up Your Inspection Readiness (IR) Plan at Start Up
Course 2: Implementing Inspection Readiness during Trial Maintenance
Course 3: Assessing Inspection Readiness during Trial Closure
Course One




(part 1 of 3):




Setting up Your Inspection Readiness (IR) Plan at Start Up



$129
This course will discuss all areas of the start up phase of a clinical trial and how to set up an Inspection Readiness Plan based on FDA's expectations and requirements.
RECORDED SESSION
Course Two (part 2 of 3): Implementing Inspection Readiness During Trial Maintenance

$129
This course will discuss trial maintenance tasks and how to utilizing monitoring visits, file reviews and mock inspections or internal audits to analyze the effectiveness of your Inspection Readiness Program.
RECORDED SESSION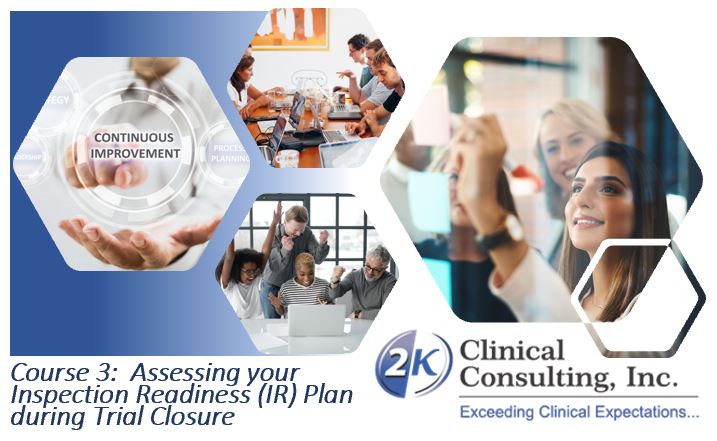 Course Three: (part 3 of 3) Assessing your Inspection Readiness (IR) Plan during Trial Closure

$129
This course will discuss trial closure tasks and how to assess and utilize your Inspection Readiness Program in preparation for an upcoming inspection.



RECORDED SESSION
2K Clinical Consulting at SOCRA
At SOCRA's Local Chapter in Arizona where 2K Clinical Consulting spoke on February 23rd, 2021 about Inspection Readiness Tips and Best Practices!
SOCRA's Clinical Investigator GCP & Trials Management Program for Clinical Investigators and Key Research Staff

The purpose of this workshop is to assist Clinical Investigators and key research staff in improving their skills and their understanding of the responsibilities of the clinical research site. This program is intended to share information and create opportunity for dialogue among clinical investigators, key research staff and program faculty. The specific goal is to enhance the participants' ability to perform quality clinical research according to existing regulations and guidelines. This program is designed to address all of the functions of the research site related to the Good Clinical Practices as delineated by the U.S. Code of Federal Regulations and the guidelines supported by the International Council on Harmonisation of Technical Requirements for Registration of Pharmaceuticals for Human Use (ICH Guidelines).
Upcoming Events
Inspection Readiness Newsletters – posted biweekly
FAQ Fridays – posted PRN
Twitter feed is not available at the moment.